G-RAFFE Smart G-protection
Plus optional integrated DACS
Dry Air Cooling System
The new Dry Air Cooling System (DACS) is integrated into the "G-RAFFE Smart G-protection" Full Body Suit as an option. This lightweight, maintenance simple DACS keeps aircrew body temperature at comfortable levels while subjected to heat and humidity during ground operations and it requires no power source.
BENEFITS:
✓ same safety / efficiency benefits as standard "G-RAFFE Smart G-protection" Suit
✓ PLUS integrating DACS Cooling System for pre-flight operation.
✓ no increased thermal burden when cooling unit off.
✓ increased safety by diminished pre-flight dehydration.
✓ lightweight and requiring no power source.
ADDITIONAL FEATURES:
✓ continued operations by "reload" in seconds.
✓ adds minimal weight / bulk to the G-protection suit.
✓ cooling unaffected by additional outer garment.
✓ simple DACS maintenance / laundry / check schedules.
✓ available F-15-16-18, Rafale, 2000, Typhoon, Mig-29, Su-27-30, L-39, MB-399, Hawk.
✓ any other platform on demand.
✓ 18 standard sizes, plus custom fit.
✓ many options available.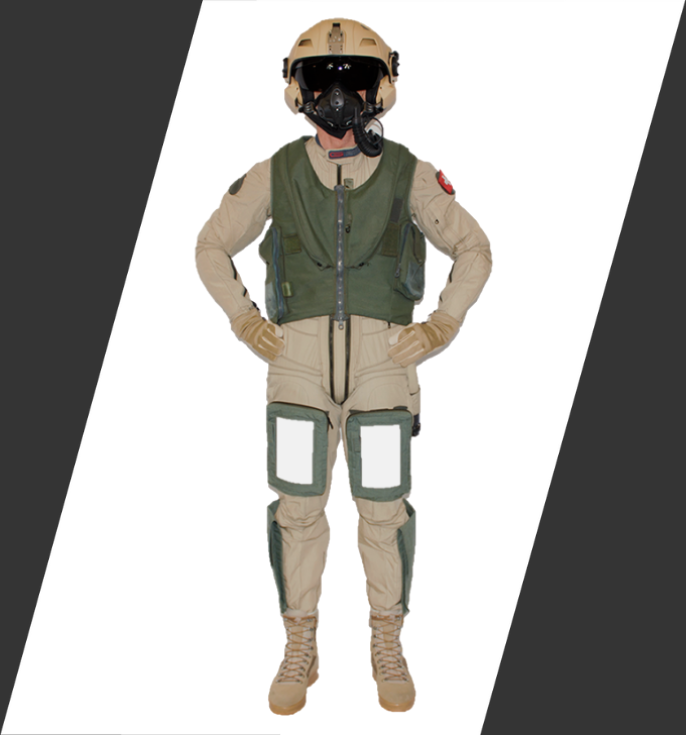 G-NIUS Switzerland Inc.
Group Headquarters
Route de Crassier 11
CH-1262 Eysins
Switzerland
+41 22 575 66 80
administration@g-nius-swiss.com